Administration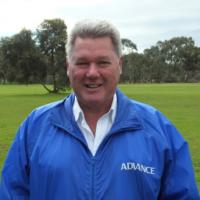 Club President : Brian Fielder
I joined the club early in 1977, just a couple of months after it started.  At that time I had Trapper, my first golden retriever.  Not long after that Mercury, another golden came along.  In the beginning Trapper was my obedience dog while Mercury competed in conformation shows.  By the time Trapper got his CDX title I had started to train Mercury as well.  He had done very well during his show career but for various reasons I decided to concentrate on obedience.  Over the next few years Mercury and I had a lot of fun trialing and along the way he got his UD title and won a State Championship in that class.
As time went by and Mercury was getting to the end of his trialing days I decided to have a go at judging, eventually gaining my full panel licence.  Since then I have had limited opportunity to trial much, but I managed to get a few titles with my german shepherds Tyson, then Satch.  Satch was a pretty good all rounder, gaining his conformation Champion title, his CDX in Obedience and Novice titles in Agility & Jumping. 
I now have another shepherd, Judd, who unfortunately hasn't had the opportunity to trial much because of my judging and other commitments.
Over the past 43 years or so I have served in every position on the club's Committee except Treasurer.  For most of that time it has been a pleasure and allowed me to meet and get to know a lot of people and make some very good friends.  We are not a big club but we have always taken pride in our achievements and the value we add to our community by helping people to train their dogs to an acceptable standard.
Committee and Instructors 2023
                                  
President :         Brian Fielder
Head Instructor: 
Instructors: Obedience
Vice-President: 
Karen Macey-Mort
Cathy Miller
 
Megan Behrendt
Maureen Bishop
 
 
Pam Davis
Secretary:          Denise Quemard
Asst Head Instructor:
Unetta Shugg
Treasurer:          Hayley Quemard
Vacant
Robyn Van Der Linden
 
 
 
Committee:
Instructors: Agility
Aspiring Obedience Instructors
Bev Mayne
Chloe Threadgold
Darren Hale
Charmaine Kenner
Melissa Jolley
Hans Tiedje
Darren Hale
Michelle Chapman
Robert Jongenelis
Karen Macey-Mort
Sophie Wright
Sophia Gfrerer
Megan Behrendt
Mel Maiolo
Tim Foster
Sheila O'Neill
Sharon Gahan 
Nicola Parkman
Taylor Parsons
Marie Warming
Jessica Hill
 
 
Cody McCarthur
 
 
 
Trial Secretary Obedience/Rally:
Trial Secretary Agility:
Instructors: Tricks
Denise Quemard
Vacant
Megan Behrendt
 
 
Sussan Baldwin (Aspiring)
Canteen:
 
 
Norma Chatfield-McKeaig
 
Instructors: Scent Work
Jenna Goodwin
 
Narelle Medlicott
 
 
Sharon Gahan
Copyright 2013 Noarlunga City Obedience Dog Club Inc